Sewing Workshops at The Sewing Barn
Whether you're a beginner, an improver or would just like to come and enjoy time sewing with like-minded people The Sewing Barn will give you a warm welcome. The regular workshops are project-based so you can work on whatever you choose - patchwork and quilting, dressmaking, cushions, bags, even alterations, it's your time to do as you please with lots of help from Carol. Workshops are limited to eight people so you will receive plenty of support.
I also run workshops in free motion embroidery, raw edge applique art and many other speciality workshops.
Take a look at the workshop details below and ring me to book or for more information.
Below are details of both the regular workshops which are project based. You can bring an existing project or start a new one.
If you are new to sewing you will be very welcome. Small, friendly classes mean you will get the help you need.
Take a look at the Specialist workshops. They are suitable for both beginners and the more experienced.
Workshops must be booked and paid for to secure a place. Refunds cannot be given if you are unable to attend unless the place can be filled by someone else. Please ring if you require any further information.
| | |
| --- | --- |
| Wednesday, fourth Wednesday each month | 10am – 4pm £38.00 |
| Saturdays, First and Second each month | 10am – 4pm £38.00 |
| | |
| --- | --- |
| Tuesday bi-weekly | 10.00am – 3.00pm £35.00 |
| Thursday bi-weekly | 10.30am – 3.30pm £35.00 |
Felt Flowers
10am – 3pm
Friday July 29th 2022
All Materials Included
Spend a relaxing day cutting and sticking.
Make four beautiful gerbera flowers. Learn techniques that will enable you to make other flowers after the workshop and be inspired by the door wreaths and hearts that are in the workroom.
Fabric Animal Collage Art
10am – 4pm
Saturday, August 20th 2022
Price: £55 includes materials (not threads.)
Using my extensive scrap fabric collection (colour coded) you will learn how to use fabric to make a lovely piece of art. Choose from squirrel, robin, hare, fish or rooster.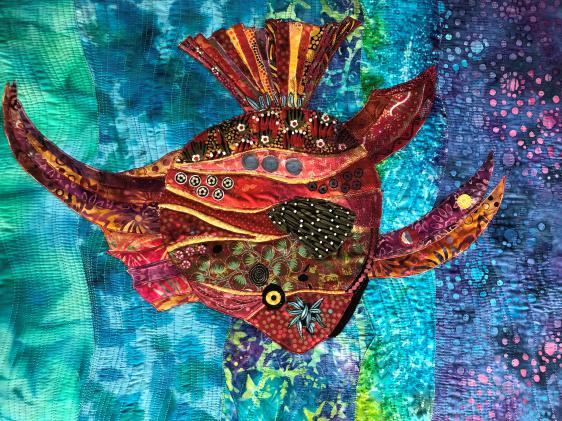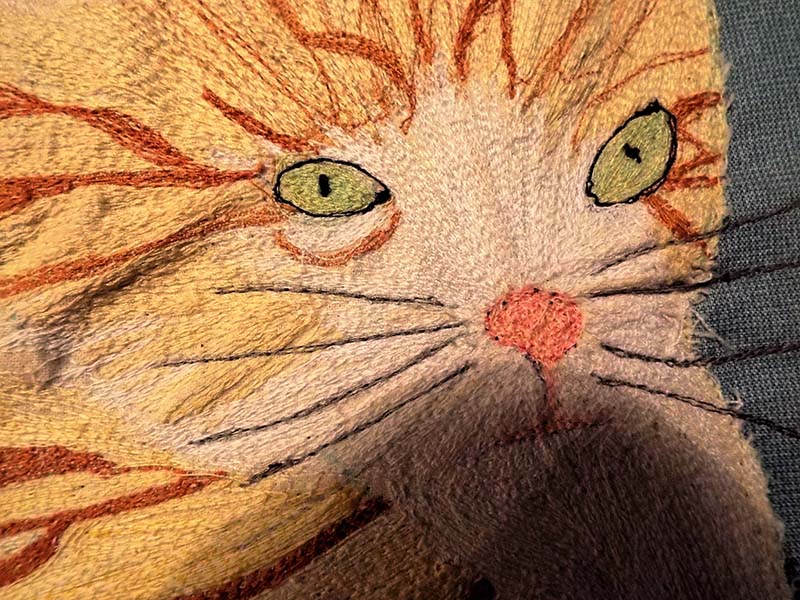 Free Motion Embroidery
10am – 3pm
Wednesday, August 3rd 2022
Price: £45 includes materials (not threads)
You will learn how to set up your machine for FME and how to 'draw' with your sewing machine. We will explore how to combine FME with fabric to create pictures. You do not have to have any sewing experience at all to learn this skill.
Make a Hare
10am – 3pm
Friday July 15th and Saturday July 16th
Price: £90 includes all materials
Make a soft sculpture hare approx. 40 cm tall (including ears)
The hare has jointed limbs and I will show a technique to apply them and add wire to provide a firm structure to your hare. You will also learn how to stuff your hare expertly to produce a smooth, firm finish.
You will have a variety of soft furnishing fabric to choose from.
However if you have a fabric you would like to use please feel free to do this.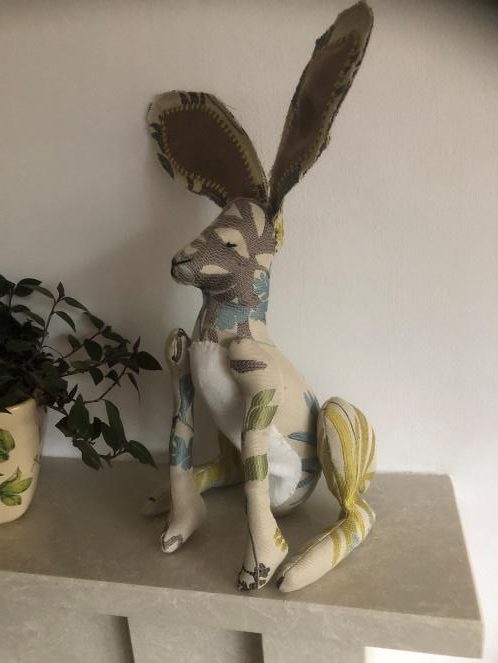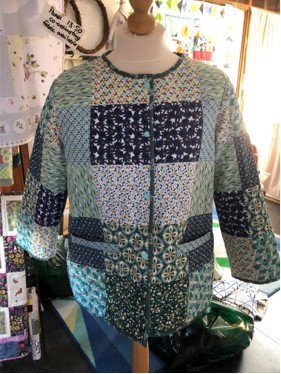 Quilted Jacket ( similar to those seen on The Sewing Bee)
10am – 4pm
Friday September 16th and Saturday September 17th (two day workshop.
Price: £125 for the two days
There will only be four places available to ensure attendees get all the help they need to finish their jackets. The wadding required for the jacket is included in the cost as is the Tamarack Jacket Pattern ; worth £17, which you have your own original pattern for included in the cost of the workshop. We will make adjustments to the pattern so you get a perfect fit and alter the style if you prefer a longer version for example.
You must be a competent sewing machine user in order to get the most out of this workshop.
You will learn the following skills;
Making adjustments to a pattern
Understanding the markings on a pattern and terminology used
Sewing squares together with perfectly matched seams
How to quilt your fabric
Inserting a welt pocket
Binding seams and applying bias binding
Inserting snap fastenings. (you could use toggle fastenings or something similar if you prefer.)
Pre cut, 6 inch cotton fabric squares will be available to purchase for making the jacket. (You can order a pack in the colour combinations you would like prior to the workshop)
Felt Poinsettia Plant
10 am – 4 pm
Friday September 30th
Price: £55 includes materials
This is a poinsettia which will last for ever! Make a beautiful, realistic plant that will fool everyone.
No sewing involved just cutting and sticking.
NB. Pot to place poinsettia in is not included so bring one with you.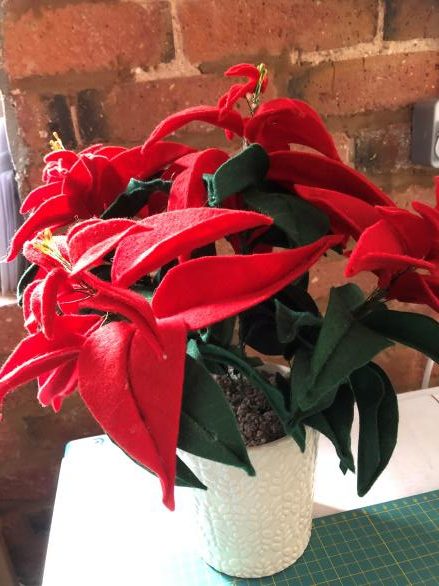 Contact Us
Contact The Sewing Barn for more information on our wide range of fabrics and sewing workshops. Click the button below to call or fill out our email form.